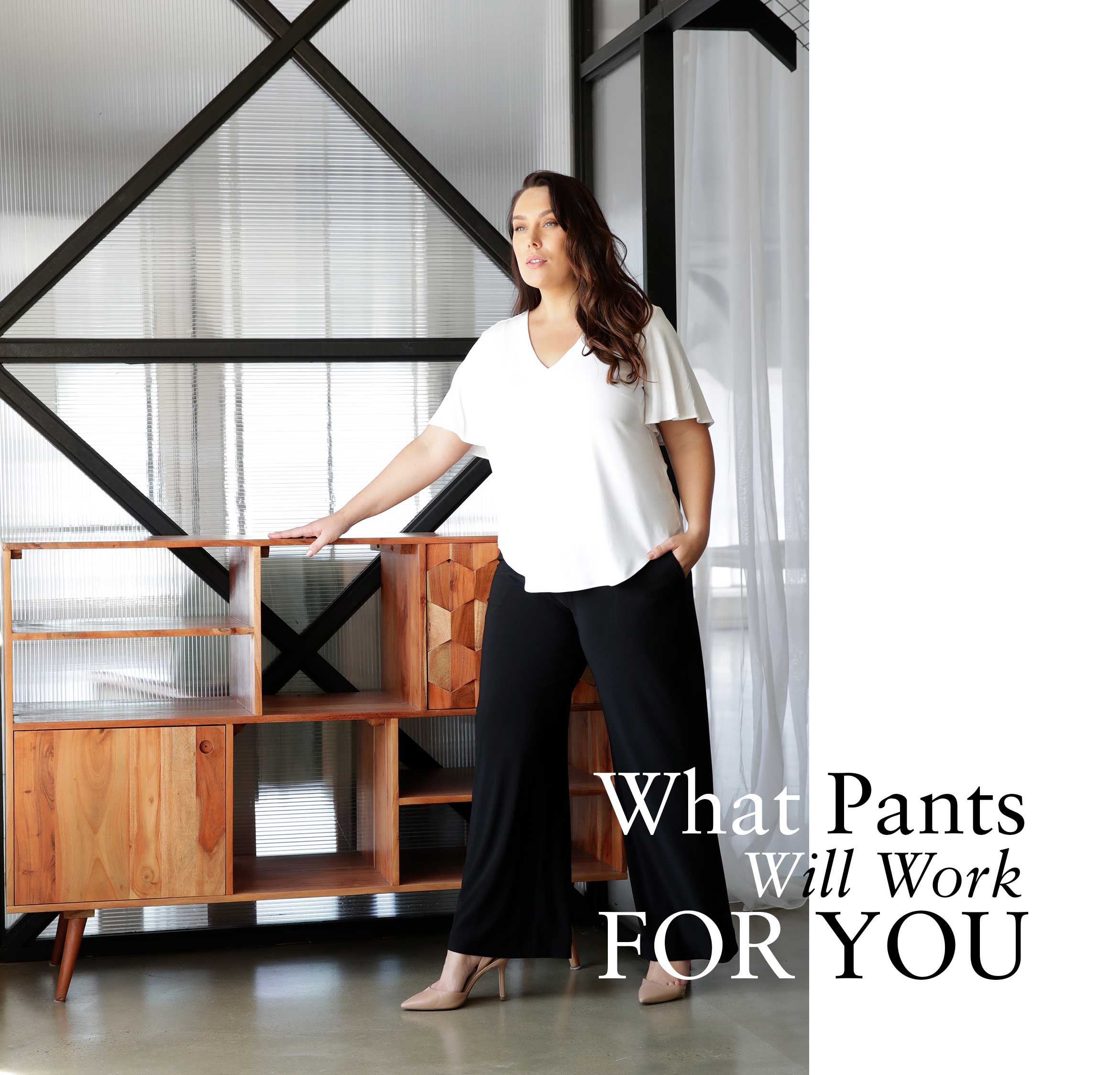 Finding the most flattering pants for your size, height, and shape is one of the best things you can do to ground your style and send your confidence levels sky-high. Once you've found great fitting pants, you'll be able to create endless style combinations that help you feel as amazing as you look, and look as incredible as you are.
Keep reading. These five tips will help you find the most flattering pants for your beautiful body.
Figuring out the right size pant is the best place to start. Our size guide will help you establish your own measurements with expert fit advice so that you can find the right size from the get go. From there we can look at how different styles and shapes will show off your best assets.
Different pant styles will flatter different body shapes in all the right ways. Finding the best silhouette and most flattering pants for your body is well worth the journey; you'll end up with a go-to pant style that makes you feel confident every time you wear them.
We love the flexibility of Jersey Fabric as we're able to create a tailored look that works on various shapes.
Monroe Pants in Navy are our wide leg and full length fit. The tailored fit give these a professional and sharp look.
Our Tobie Pants are our take on a drop-crotch tailored pant. The tapering of the pants is incredibly flattering and gives you a stylish, professional look.
From fitted to relaxed pants, our designs translate beautifully from work to weekend all year long with just a few styling refinements.
Your height is an important factor to consider when choosing pants. If you enjoy wearing cropped pants, choose a length that hits you at the slimmest part of your leg for the best silhouette for your shape and height.
Expert Tip: Pair the perfect fitting pants with a pair of nude heels to make your legs look even longer.
Monroe Pants in Black are our straight wide-leg fit. They will have you looking chic but feeling comfortable for all-day wear.
Bradley Culotte Pants are our cropped wide leg pant. They have the soft waist detail and a deep hem line, creating the perfect pant for any occasion. This pant is very relaxed and stylish, with smooth lines to feel great.
Pants are one of the best investment pieces you can buy because they are such an important wardrobe staple. Most of your outfits will be built around your pants, so investing in high-quality pants that are made to last will save you money as well as the stress of feeling like you never have anything to wear.
Once you find the right styles that fit you like a glove, you'll find it so much easier to put together stylish outfits quickly.
Fabric is an important indicator of quality. Generally, you can feel the difference between a cheaper fabric and a luxe fabric. It should have a bit of weight to it, you should feel a little give when you stretch it gently, and there should be no obvious seam, colour, or thread issues. If you hold it up to the light, it should definitely not be transparent.
As mentioned before, pants are an investment piece. You should aim for three main pairs of pants to serve various functions in your wardrobe. A pair of professional pants is a must, to build up most of your stylish, work outfits. A great pair of jeans is another must because these can be so versatile in your wardrobe. The third pair of pants can be casual pants that you wear to weekend events, nights out, or on dress-down days at work. When shopping for the most flattering pants, make sure they fit into these functions and that they work in more ways than one.
Once you've found the style that suits your shape there's no need to reinvent the wheel. Grab a pair in different colours so that you can mix and match your separates with ease.